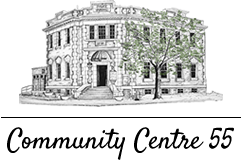 The generosity of Toronto's East End communities has always been a special part of the holiday season. This year, the need for donations is greater than ever as many families are facing economic hardship.
We will be actively supporting Community Centre 55 as they undertake their 41st Annual Share a Christmas program, delivering gift cards and toys to families from all backgrounds.
Help Community Centre 55 make Christmas easier for families, this season, by donating new toys or grocery gift cards*. We'll be accepting donations on behalf of Community Center 55 at 2234 Queen Street East during The Christmas Market at 2234 Queen Street East.
Looking for other ways to help Centre 55 Share a Christmas?
Donate money and receive a tax receipt for Hamper's Share a Christmas.
Cash & Gift Cards*: In person at Community Centre 55.
Credit Cards: In person, by phone or through Canada Helps via the "Donate Now" button on the following website. https://www.canadahelps.org/en/charities/community-centre-55/.
Cheque (Payable to Centre 55): In person or by mail @ 97 Main Street, TO, M4E 2V6.
e-transfer: accounting@centre55.com. No password is needed, but please indicate that it is for Share a Christmas (SAC) and include a postal or email address to receive a charitable tax receipt.
Adopt-A-Family or a Senior by calling Evonne Hossack at 416-691-1113 Ext. 222.
Support their Teen Angel Programme by purchasing gift cards in denominations of $30 to $50 from businesses such as Walmart, Sport Check, Shoppers Drug Mart, H&M, etc. While we always like to ensure that children enjoy Christmas, there is often a shortage of age-appropriate gifts for teens. Contact Evonne Hossack at 416-691-1113 Ext. 222.
Help Community Centre 55 identify those in need. Contact Cameron at 416-691-1113 Ext. 226.